Jun 23, 2016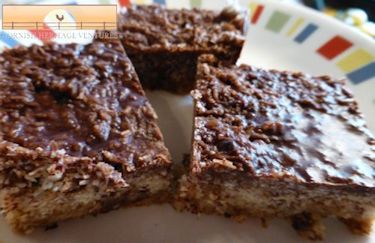 This recipe from Azure Standard's blog has become one of our favorites! If you like Almond Joy here in the USA or Bounty in the UK and Europe you will LOVE this. There are three layers so here goes:
CRUST
1 cup almonds, finely ground
2 tbsp real maple syrup
1 tbsp coconut oil, melted
FILLING
1 cup shredded unsweetened coconut
3 tbsp coconut nectar
2 tbsp coconut oil, melted
1 tbsp water
TOPPING
1/4 cup cocoa powder
1/4 cup coconut oil, melted
1 tbsp real maple syrup
I always double this recipe so use a 9″ x 13″ pan. For the above quantity use a loaf pan or something similar.
Line pan with parchment paper. Combine crust ingredients and press into lined pan.
Mix all filling ingredients really well. Firmly press filling on top of crust smoothing with a spatula.
Whisk all topping ingredients and pour over coconut filling. Place pan in freezer to set until firm.
Cut into squares when firm but keep in freezer until ready to serve as these do soften quickly.
VERY quick to make, EXTREMELY easy to eat!
Enjoy,
Liz