Jul 3, 2012
I am the type of person that doesn't like to do the same thing every day. OK I know the cow has to be milked, the animals & kids fed etc but I like to add variety to the daily routine so when we discovered that we had a Wild Cherry Tree here, even though the berries are small & a pain to pick, I was going to do it regardless! (This tree can be known by other names too according to the research I did to find out exactly what we had.)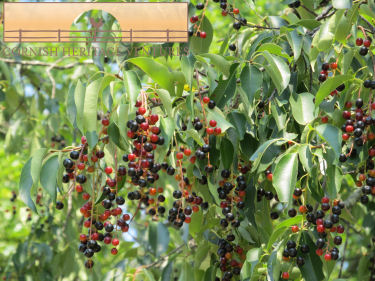 The heat was high along with the tree so I had to get the tractor to climb on. Even then I could not reach the top branches by a longggggg way! We experimented with shaking the tree BUT the berries are SO small & the terrain there a little rough that that just scattered them & made more work. Managed to pick a gallon of berries so then it was time to wash & process them.
These berries are sharp & only about the size of a holly berry. The pips are poisonous just like regular cherry pips so they had to come out. I figured Jam was the best use for them. On a side note the wilting leaves are extremely toxic to animals so not a good idea to have your livestock anywhere near this tree in Fall.
Add one cup of water to one gallon of berries.
Stir constantly bringing to the boil & cooking until soft.
Using a strainer, strain the juice & then start to "mush" the berries to get all the juice & whatever pulp you can out. It is not practical to remove the pips like with plums so you do have to sacrifice some of the pulp.
One gallon of berries yielded me 5 cups of thick juice: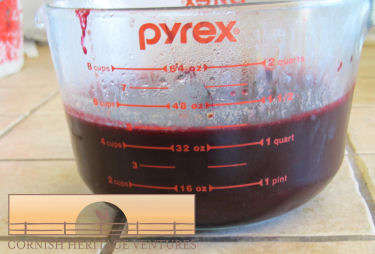 Now it was time to make the jam. After not using enough sweetener in my Strawberry Jam last year I was determined to make sure this Jam was going to be enjoyed by the family! (Alot of sweat went into picking these & getting this far – I was not going to waste it! LOL!)
Add 4 tbsp of Pectin plus a 1/4 to 1/2 tsp of butter and bring to a rolling boil. A rolling boil is one that cannot be stirred down. I used Classic Real Fruit Pectin by Ball. Apparently butter stops the jam foaming & I had NO foam at all with this.
Add 5 cups of sugar. I used Organic Turbinado & began taste testing it after the 4th cup adding half a cup at a time up to 5.
Return mixture to a rolling boil & boil hard for 1 minute, stirring constantly.
Remove from heat & using a funnel, ladle hot mixture into hot sterilized half pint jars. I always like to use half pint jars for jam so the contents, once open, get used up quicker & thus stay fresher. I made 8 half pints.
This jam was gelling before I had finished putting it into the jars so I was impressed. Of course the most important test was the taste test from the family. It got a thumbs up so I am hoping I can get out there tomorrow with the tractor & pick some more now that more are ripe.
Liz
3 Responses to "WIld Black Cherry Jam"